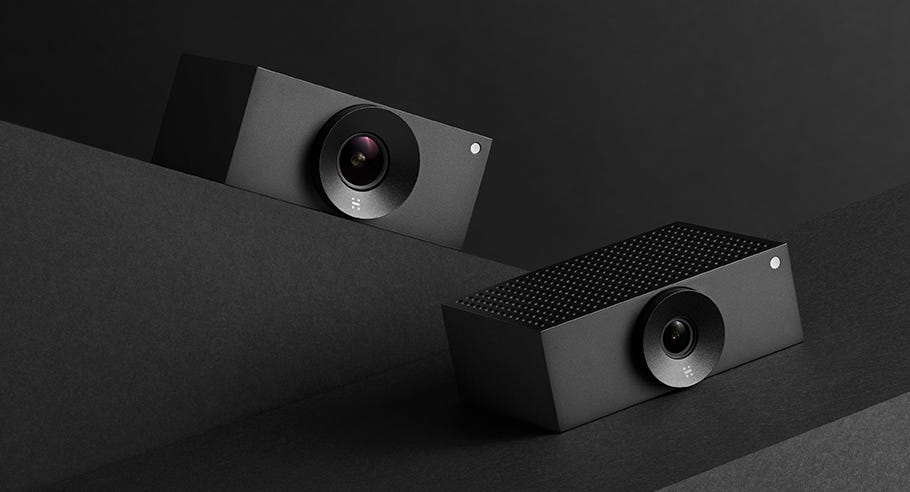 Huddly's recent unveiling of the S1 camera demonstrates the brand's commitment to bringing standout value to every application. While the S1 might look similar to last year's L1 at the glance, Huddly's claim that S1 is perfect for huddle, small and medium rooms while L1 is designed for larger rooms, is backed up by a few important spec differences.
The exteriors of the S1 and L1's are very similar. S1 is a bit lighter (26% lighter than L1's 1.3 pounds), a bit shorter (by 0.3"), and almost imperceptibly shallower (0.1%) than the L1. They are close enough in size to be packaged in the same-sized box. They also have identical connectivity ports (RJ45, Cat5e/6/7, USB 3.0), and a camera tripod mount.
The primary differences in Huddly S1 vs Huddly L1 are in their optics. S1 houses a 4K image sensor (12 Megapixels 1/23" CMOS sensor), while L1 packs a 6K image sensor (20.30 Megapixels 1" CMOS). This allows L1 to capture more detail across larger rooms for which it is intended… and which it enhances with a 5x digital zoom vs the S1's 4X digital zoom. Both cameras feature 1080p full HD at 30 frames per second, but S1 utilizes a wider field of view at 120 degrees, vs L1's 92 degree field of view. This is so that the S1 can capture wider, shorter rooms, while the L1 can capture longer conference spaces. L1 also offers 180 degree image auto-flip to account for a variety of mounting approaches, while the S1 does not.
In terms of software features, both the S1 and L1 come with Genius Framing, digital pan/tilt/zoom, a collection of image enhancements (white balance, color, noise reduction, dewarping, portrait lighting). One distinction is that the S1 comes with Speaker Framing (allowing the camera to automatically frame those who are speaking), while L1 does not.
Both cameras include a Huddly USB to PoE adapter, and their spec sheets can be found here: L1 Spec Sheet, S1 Spec Sheet. Both cameras are available now at BTX, along with the rest of the Huddly line: Huddly Canvas, Huddly GO, Huddly ONE and Huddly IQ.